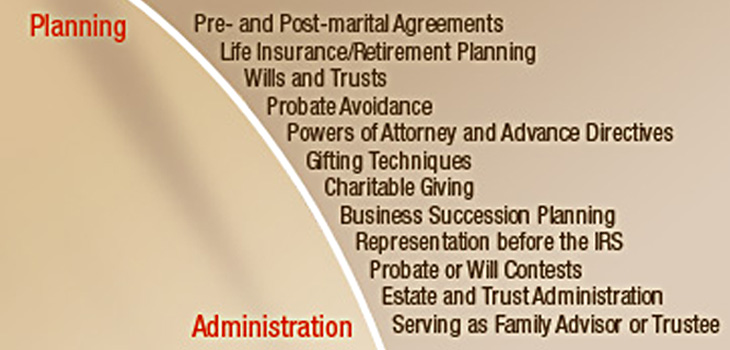 ESTATE PLANNING
Estate planning can be complicated. And the list is endless… death taxes, asset protection, probate, appraisals, health care concerns, eligibility of heirs, life insurance, IRA's, 401K's, annuities, burial or cremation desires, and intent regarding artificial life support to name a few. Not knowing your legal and financial rights often ends up costing you and your family more in the end.And we can help.
Every estate planning situation is unique. Whether you have a modest estate or a large estate, whether you are retired or a business owner, we can help you. In order to assist you, we want to know you, your unique situation, and the nature of your relationships. We offer discussion, recommendations and useful research tools to make your planning simple, cost effective, and worry-free. Most important, we want to know you, your family and your wishes for the next generation as your intent is truly what matters and what will carry on for the years to come.
We help you…
Review your existing estate planning documents, including wills, trusts, and general and health care powers of attorney.
Coordinate with your other advisors as needed.
Clearly define your estate planning goals.
Evaluate and recommend estate planning options.
Reduce or eliminate gift and estate taxes.
Avoid the expenses, delays, and publicity associated with probate.
Design a plan for conserving and effectively managing your estate after death or incapacity.
Transfer your estate to who you want, when you want, and how you want.
Provide creditor, divorce and estate tax protection for your heirs.
Amend your estate plan as needed.

We also can help you with…
Wills, living trusts, general and health care powers of attorney.
Lifetime family wealth transfers.
Family LLCs and other business relationships.
Elder care issues.
Asset protection planning.
Business succession planning.
Prenuptial Agreements.
Retirement and distribution planning.
Charitable planning.
Probate and trust administration.
Conservatorships/guardianships.
Will and trust contests.
The hassles and red tape associated with estate planning can be daunting. Our attorneys are waiting to assist you through every step of the process. We will work hard to protect what you've worked hard to save. If you'd like more information about our estate planning services, please contact us.